When the Jamf Pro software is installed on a Mac, the Self Service app is installed into the Applications folder. Self Service allows an end user to install applications made available by their IT admin.
To access the Self Service application, browse to Macintosh HD->Applications->Self Service or press command-space and type "Self Service".
The SCCM Software Center is where users can install software from a portal at their convenience. It is available from the Start Menu under Microsoft System Center > Configuration Manager > Software Center. It will look the following when opened: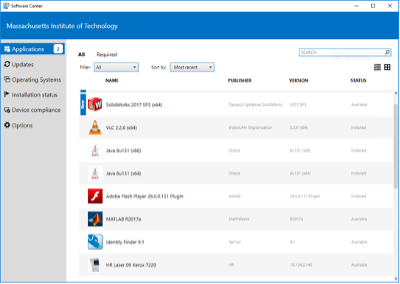 The software listed will include any applications you have to set to "Available" status.